Sir Steve Makes Mark: Tennis Historian, Journalist Steve Flink Inducted Into Eastern Tennis Hall of Fame
By Nancy Gill McShea ~ April 25, 2010
Tennis journalists in the media room at the Grand Slams refer to Steve Flink as "Sir Steve." He is a legend in the sport, an encyclopedia of tennis who stores in his mind every box score, court strategy, descriptive adjective and personal history of every world class tennis player.
Steve was inducted into the Eastern Tennis Hall of Fame in New York City on Friday night.
His photographic memory rivals the Dustin Hoffman character in Rainman and even Hall of Famers Chris Evert, Pete Sampras and the late Arthur Ashe have deferred to Steve in public interviews to clarify dates, scores and momentum shifts in their matches.
Steve paints graphic pictures to share with fans his unique understanding of the intricacies of every match and to give life to the people he writes about.

No doubt you have read dozens of Steve's 2,000-plus published tennis essays, listened to him on the radio and watched him on television. He currently writes a column for TennisChannel.com. From 1992-2007 he was a senior correspondent for Tennis Week. From 1974-91 he was a columnist and an editor for World Tennis magazine. Since 1982 he has covered Wimbledon and the French Open for CBS radio. From 1980-96 he was a color commentator for MSG and ESPN. In the 1970s and '80s he worked as a statistician for NBC, CBS and ABC tennis telecasts. He is the author of "The Greatest Tennis Matches of the Twentieth Century."
Steve's career in tennis began as a tale of two cities. His father, Stanley, first took him to Wimbledon at age 12, in 1965.""I was hooked, totally enamored of the environment," he said. At summer's end, he returned to his home base in New York to watch his favorite Americans of that generation – Ashe, Clark Graebner, Dennis Ralston, Nancy and Cliff Richey – at the U.S. National Championships in Forest Hills, thereby setting up a Wimbledon-US Open pattern for the next 45 years.
"I knew by the time I was 15 that I wanted to be a tennis reporter," he said.
Everybody depended on newspapers before the internet surfaced and Steve said that when he was touring Greece at 17 "it was killing me that I couldn't get the tennis results. I hunted down the Herald Tribune at Crete, found a place that sold the international issue and got back copies. I had to know every day what was happening.
Once I saw a score it was locked into my head. I can't explain it; I just had a passion for it."
He liked numbers and said that gave him a niche in establishing himself. "Initially, it was the numbers that got me on the board, but I started understanding the game itself much better when I was in my twenties."
In 1970 he moved to England to study at the U.S. International University in Sussex and played college tennis. The word on Flink in team brochures: "He has a well rounded game…excellent student of the sport, practices constantly…main asset is consistency." He jammed his weekly courses into three days and rushed back to his father's abode in London to hang out at the Queen's Club.
"They were important years," said Steve, whose father introduced him to Bud Collins, John Barrett and Graebner. "Queen's was a great education. Everybody floated through — Ted Tinling, Cliff Richey, Butch Buchholz and Marty Riessen — and I would have conversations with them. Tinling would hold court in the dining room, regaling me with stories from the latest tournaments…I learned a ton listening to him talk about the game."
He added the French Open to his repertoire in 1971 and in 1973 he walked up to Chris Evert, asked her for an interview and she agreed. He sold the story to World Tennis, his first, and a week later received a check from the editor, Gladys Heldman. He wrote another story for World Tennis in 1974, and the magazine offered him a job.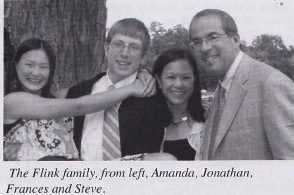 "Bud Collins knew I had this memory and hired me in 1972 to help him at Wimbledon and the US Open," he said. "There were no computers, no official head-to-heads put out by the tours so Bud would ask me questions like 'How many times has Ashe beaten Okker?'…I also read World Tennis every month and picked up stats from old issues, so it all just got into my system."
At the 1972 Open he met another mentor in Jack Kramer, who was working with Bud on CBS while Steve was doing the stats. "Jack taught me a lot," he said. "We later worked on instruction articles for World Tennis and conversations shifted to other relevant topics in the game."
Ashe played Nastase in that 1972 Open final. "Ashe was a hero of mine," Steve said. "I loved it when he won the first Open (in 1968) and this time he was poised to take the title again. He was leading Nastase 2 sets to 1, with a break point for 4-1 in the 4th…which would have put him out of reach. He ended up losing it in 5. He sat down afterward, put his head in his hands and cried. I went off to the clubhouse and cried myself."
Steve's trip to the historic 1972 U.S.-Romania Davis Cup match in Bucharest was a major learning experience. The U.S. team received terrorist threats. Two angry Romanian guards approached Steve, started shouting "American agent, American agent!" and tried to hustle him off the grounds when British writers rescued him.
"It was a great moment in my evolution as a reporter to be there at age 20," he said. "Stan Smith was the hero, beating Nastase in the opening match. Then Gorman was up two sets on Tiriac, who got the crowd chanting to give him extra time between points. Tiriac beat Gorman. It was nerve wracking, but Smith and Erik Van Dillen won the doubles and Stan beat Tiriac 6-0 in the fifth to clinch on the last day, despite a stream of bad calls."
Excerpted thoughts from his media pals — journalists, editors and television/radio broadcasters — offer an inside view of Sir Steve:
Neil Amdur "Long before computers spewed endless reams of data, there was always Steve Flink to recall the glorious moments in tennis. And remind us, he could…of a memorable match you barely retained on the fringes of appreciation…There are one-of-a-kind stat freaks in every sport who can recite batting averages, fantasy football numbers and three-point shooting percentages…But Steve's persona is wrapped around more than numbers. He inhabits his own Magic Kingdom filled with the joy and optimism of someone who treasures the true meaning of love, from court to life…he attaches the same meticulous preparation and detail to sartorial coat and tie selections at Wimbledon, Paris or Flushing Meadows, as he does to a thoughtfully researched, well-written original piece of journalism."
Mary Carillo – "Steve can call up matches from decades past and put them in modern day context…Steve can't be spun — he knows just what he's watched and ably reports what he's seen, every single time…"
Bud Collins – "I've known Steve since he was a kid living in London, a tennis degenerate as we call each other…We covered the uproarious U.S.-Romania Davis Cup final in '72…He, Mary and I formed the TV team for the women's season-ending championships at Madison Square Garden. His facts and figures were as clear on the air as in his writing….Most reporters today resemble ragbags but Steve stands out eloquently in his appearance, much like his mentor, the great New Yorker writer Herbert Warren Wind."
Andre Christopher – "I have never known another writer who uses adjectives the way Steve does. If you could get him to describe any activity you were doing, I'm sure it would be like seeing yourself in slow motion. And almost everybody looks cool in slow motion. Not as cool as Steve, mind you, but cool enough…Steve in a press room is like a Rolls Royce in a Walmart parking lot, but he has an Everyman affability that betrays the stuffiness of his wardrobe."
Matt Cronin – "At the Grand Slams, even when Steve is…doing 3 radio reports per hour and trying to fit a column or two into his day, he finds time to check up on his beloved Yankees. He's so obsessed with his boys in pinstripes that I swear, even when his favorite male player, Pete Sampras, was going for his then record 14th Slam, Steve was more concerned about whether Mariano Rivera was losing accuracy off his cutter."
Joel Drucker – "Tennis is lucky to have Steve in its family. As he himself would put it with trademark precision, he has graced our sport with considerable brio and elan. It's an honor to be a colleague of a man so passionate and generous."
Wayne Kalyn – "Other than being the Intel chip of tennis, Steve is an expert on gabardine trousers — with cuffs, always cuffs — on the racks of Paul Stuart's, black bean soup, burger and baked potato at Joe Allen's…Perplexed Manhattan doormen are still scratching their heads over Steve's detailed encomium to the Sampras forehand back in the '90s.…the proprietor of China Bowl restaurant—a victim of the wrecking ball—will never forget Steve's weekly panegyric about the lunch specials. The proud proprietor agreed with Steve's assessment and responded, "Thank you, Mr. Frink…The salesman at the shirt department at Brooks Brothers admired Steve's expertise…He imparts his wisdom with the best that Chaucer and Buddy Hackett had to offer –he entertains. …Passion — and a laugh — is always the point…"
Richard Pagliaro – "Steve's writing is to tennis journalism what Rosewall's backhand is to classic strokes…He has unwavering concentration in covering a match, charts every single point with his own distinctive note-taking system yet can simultaneously carry on a running analysis of the match on a point-by-point basis…He is a traditionalist…yet a fiercely independent thinker."
Scott Price – "Steve is always tan; he's our George Hamilton and one of the dearest people I know…We're all professionals, all scrambling around, sort of protecting our turf. Steve isn't built that way. He wants everybody to come in and enjoy tennis. He's as generous with his time and his knowledge as anyone in any sport. I've been covering sports for 25 years and Steve is truly one of a kind, not only as a tennis resource and historian but as a human being.…"
Nancy Gill McShea worked as a copy editor at a major New York advertising agency, spent 15 years teaching English and running the library in two Long Island high schools and coached varsity tennis. She has spent the past 27 years reporting in magazines and newspapers about tennis players and the game's leaders in the United States Tennis Association, Eastern Section.