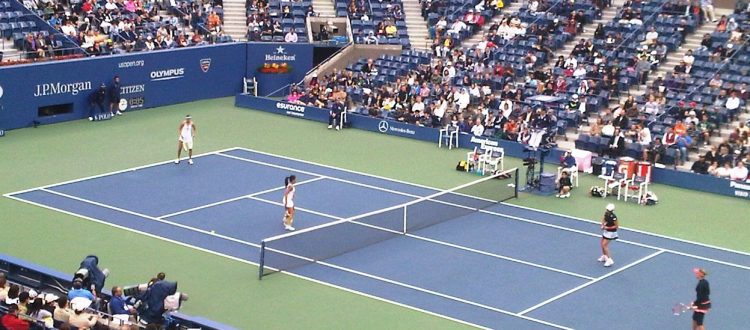 After watching Roger Federer sweep past Andy Murray and Novak Djokovic back to back as he won the Masters 1000 tournament in Cincinnati, I was convinced he was playing his best tennis of the year, taking his game to a higher level than he had at the French Open and Wimbledon. That was his fourth victory in his last five tournaments, and there was no doubt in my mind that Federer believed he was right on course to step forward over the next fortnight and win a sixth United States Open in a row.
Now, he must be even more confident after seeing the draw for the Open. Federer could confront former world No. 1 Lleyton Hewitt in the third round, but he just cast the Australian aside with consummate ease in Cincinnati and has not lost to his Australian rival since 2003. Federer could meet Tommy Robredo or James Blake in the round of 16; Blake might get inspired for a set but that would be his limit, and Robredo would be hard pressed to push Federer at all.In the quarterfinals, Federer is slated to meet another man he has owned throughout his career: Nikolay Davydenko. Davydenko does not think for an instant that he can beat Federer. Federer would thus cruise into the penultimate round of the tournament with little or no fuss at all. In the semifinals, he would conceivably meet the winner of the Andy Roddick-Novak Djokovic quarterfinal. More likely than not, Roddick will beat Djokovic. He has defeated the Serbian three times in a row, including a recent triumph in Montreal.But let's look at both scenarios. If Federer plays Roddick, he will take a 19-2 career record with him into that appointment, including their most recent showdown in the Wimbledon final. That record obscures the fact that Roddick has played Federer much tougher recently than was often the case in the past. The 27-year-old American was highly unlucky to lose the title match at Wimbledon after winning the first set and leading 6-2 in the second set tie-break. He battled gamely to the end before losing 16-14 in the fifth set. Earlier in the year, Roddick took sets off Federer in Miami and Madrid, and probably should have stopped Federer in the former skirmish.
If Roddick met Federer in the semifinals, the New York crowd would give him an unprecedented level of support. Roddick would undoubtedly be buoyed by having an audience so fervently on his side, and he is playing the finest tennis of his career. The 2003 US Open champion would give himself a chance to win against Federer. As is almost always the case when these two competitors clash, it would come down to at least two critical tie-breaks. Roddick will be tough to break, and Federer will protect his serve every bit or maybe even more sedulously.
In the end, Federer would win a blockbuster match from his old rival, coming away with a 6-7 (8), 7-6 (5), 4-6, 7-6 (2), 6-4 victory. As was essentially the case at Wimbledon, Roddick would play the match of his life, but still lose. And what if Federer plays Djokovic? That one would be more straightforward. Djokovic compromised far too much on his first serve when he lost 6-1, 7-5 to Federer in Cincinnati. He seemed afraid to allow Federer too many cracks at second serves, and proceeded to add too much spin to his first delivery. Federer feasted on that recipe, and he will do the same if they play in New York. Federer will beat Djokovic 6-4, 6-4, 3-6, 6-3.
On the other half of the draw, No. 2 seed Andy Murray has his work cut out for him. He could have a difficult time with Marin Cilic in the round of 16, but would win that contest in four sets. The real trouble starts in the quarterfinals. None of the top four seeds wanted any part of Juan Martin Del Potro in that round, but it is Murray who is stuck with the demanding assignment. Murray stopped Del Potro in a four set quarterfinal at the Open a year ago, but Del Potro has improved by leaps and bounds since then. Earlier this year, he beat Murray for the first time on clay in Madrid, and recently he lost narrowly to the British No. 1 in the final of Montreal. Murray barely got through that bruising battle, winning in the end largely on fitness.
My guess is that this quarterfinal would be played under the lights, which would probably benefit Del Potro. It would be a test of Murray's subtle changes of pace and strategic acumen against Del Potro's brute force. Del Potro has solidified his ground game impressively. His two-handed backhand was always a magnificent stroke while his forehand was fragile at times. Now the forehand is a much better stroke, and Del Potro has vastly improved his first and second serves. Murray will need to keep probing to find the slightest of weaknesses, because Del Potro will not give much away. This match has five sets written all over it. In the end, Murray will win by the skin of his teeth, as his mental toughness leads him to a 4-6, 7-5,7-6 (5), 3-6, 7-5 victory.
In the semifinals, I look for a Murray-Rafael Nadal confrontation. In the same round a year ago, Murray beat Nadal for the first time, ending a five match career losing streak against his opponent. This year, they have split two head to head matches. Nadal is appearing in only his third tournament since returning from a long absence with knee problems. Nadal will come into this semifinal after beating some big names along the way. In the opening round, he will beat Richard Gasquet, the brilliant shot maker from France who owns one of the game's most remarkable one-handed backhands.
Nadal will take that match in straight sets, but he might have a rough battle on his hands in the round of 16 when he could play David Ferrer. Ferrer ousted an ailing Nadal in the round of 16 two years ago at the Open, and could push him hard again. But Nadal will turn the tables and win this time in four hard sets. In the quarterfinals, Nadal figures to face No. 7 seed Jo Wilfried Tsonga, the 2008 Australian Open finalist. Tsonga crushed Nadal in straight sets to make it to that final, but this time Nadal will pick him apart in four entertaining sets.
So Nadal will be in good form heading into his semifinal with Murray. But will that be good enough? Murray has the benefit of much more match play across the heart of 2009. Nadal still needs a few more tournaments to reach the upper level of his game. He needs a shade more confidence. These two great players will battle furiously through a long match, but Murray will have the slight edge in the end. He will prevail 7-6 (6), 4-6, 7-6 (5), 7-6 (7) in a four hour skirmish of the highest order.
And so it will be Murray against Federer for the second year in a row in the Open final. Murray will be more prepared this time, less in awe of his surroundings, better able to handle the experience of being in a major final. But Federer did himself a world of good when he beat Murray in Cincinnati. He will walk onto the court for this final fully believing he will win; Murray will be optimistic but not entirely convinced he can get the job done.
And yet, Murray will throw everything he has at Federer. He will return much better than he did in Cincinnati. He will serve clusters of aces and move his second serve around more skillfully than was the case the last time he played Federer. That will make it awkward for Federer to attack those second serve returns, and Murray will thus hold serve more easily. But Federer will keep rescuing himself on big break points with magnificent serving. He will frustrate his adversary with his bold and nerveless play under pressure. Murray will retaliate by catching Federer off guard with his outstanding backhand down the line, and he will more than hold his own from the back of the court.
It will be a superb final from both sides of the court, but Federer will win his 16th major in a hard fought encounter: 7-5, 4-6, 7-5, 7-6 (8). In the fourth set tie-break, Federer will save three set points to avert a fifth set.
As for the women, the view here is that Dinara Safina— the top seed— will find herself in an arduous quarterfinal against 2008 finalist Jelena Jankovic, the No. 5 seed. Safina did not play particularly good tennis over the summer after reaching the final of the French Open and the semifinals of Wimbledon. Jankovic has not had a good year until she won Cincinnati, but now her confidence is back. In that event, she beat Safina in the final. Jankovic will repeat that victory at the Open and move into the semifinals. She will meet Elena Dementieva in a repeat of the 2008 semifinals.
Dementieva will face a stern third round confrontation with Maria Sharapova, the 2006 Open victor. Dementieva just beat Sharapova on a windswept afternoon in the final of Toronto. That was a hard fought, straight set showdown. This time, the two Russians will fight furiously through three sets, across a long afternoon, through several shifts in momentum. Dementieva will survive, coming through 5-7, 6-3, 7-5 in a stirring battle. Sharapova will serve for the match at 5-3 in the third, but Dementieva will hang on and get out of that bind.
Dementieva will beat Svetlana Kuznetsova in the quarterfinals, reversing the result of the 2004 US Open championship match. She will have been through a lot by the time she meets Jankovic, but Dementieva will be better for it. When Jankovic beat Dementieva in the semifinals of Cincinnati, she needed to save four match points. This time around, Dementieva will gain the upper hand early, and she will force the issue with her flatter, more stinging ground strokes. Dementieva will defeat Jankovic 7-5, 7-6 (4) and reach the final with that victory.
On the opposite half of the draw, No. 2 seed Serena Williams will take on No. 28 Sybille Bammer in the third round. Bammer recently ousted a subdued and listless Serena in Cincinnati, but Serena will be out for revenge against the left-hander, and she will get it with a tough two set victory, toppling her rival for the first time in three career meetings. Serena will play No. 10 seed Flavia Penetta in the quarters. Penetta has enjoyed her best year as a professional, and recently beat Venus Williams. But Serena will overpower Penetta 7-5, 6-4 in a compelling collision. I look for 2000-2001 champion Venus Williams—- the No. 3 seed— to play No. 8 Victoria Azarenka in a scintillating quarterfinal.
Venus will win the first set, lose the second, and then force a third set tie-break. That will be a spectacular sequence, but Azarenka— the loudest current grunter in the women's game— will narrowly escape with a 4-6, 6-4, 7-6 (7) victory, saving a match point when Venus drives a forehand long to end a dramatic exchange from the baseline.
In the semifinals, Serena will have a similarly close and high quality contest with Azarenka. Serena will be peaking by now, getting her forehand under control, opening up the court with her two-handed backhand, exploiting her first serve over and over again. Serena Williams will defeat Azarenka 7-5, 7-6(4) to move into the final.
When Serena recently played Dementieva in Toronto, she lost a tight first set in a tie-break, and then essentially went away. She seemed resigned to defeat. Dementieva took full advantage of it. But this situation reminds me a lot of the start of the 2009 season. Dementieva upended Serena in Sydney but when they met again, Williams beat Dementieva in the semifinals of the Australian Open. In the final of the U.S. Open, Williams and Dementieva will have a match reminiscent of their semifinal at Wimbledon, when Williams rallied from match point down to win 6-7, 7-5, 8-6 in the match of the year thus far in the women's game.
This time around, Williams will win by scores of 7-5, 6-7 (3), 7-6 (2) as the two players push each other to their outer limits. As is so often the case, Serena will achieve the victory as much with her willpower as her shot making. She will win her 12th major title. Dementieva will lose gallantly. The world of women's tennis will celebrate a classic final in the last major championship of 2009.