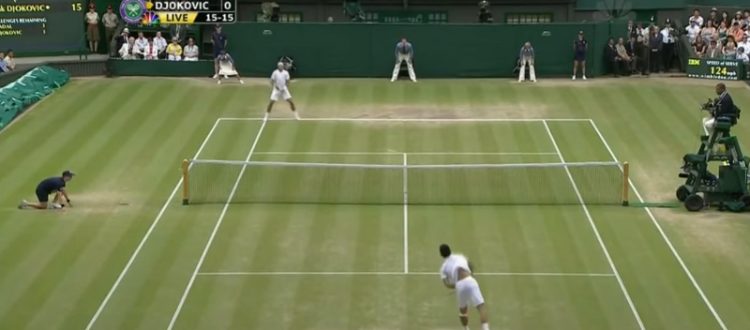 2011 Wimbledon Preview
If Rafael Nadal is going to capture his third Wimbledon singles championship over the next two weeks, he is going to need to reach back with all of his resources to get an exceedingly difficult job done. In the third round, Nadal figures to take on the dangerous Milos Raonic, the 6'5" Canadian with one of the game's most daunting serves. Raonic is seeded 31st after a remarkable first half of 2011, and he will test Nadal with the ferocity of that delivery and an overpowering ground game as well. Raonic will turn this contest into something of real value for the spectators, but Nadal will eventually pick him apart in four tough sets to make it to the fourth round.
Waiting for him then will be the 2009 U.S. Open champion Juan Martin Del Potro, and the Spaniard will need to be in excellent form to prevail. Del Potro is not quite back to the level he reached when he toppled Roger Federer in a five set final at Flushing Meadows two years ago, but he is swiftly moving back to that lofty level. Del Potro will hold his own with Nadal from the baseline, and Nadal will need to keep pounding his forehand with extraordinary depth to prevent the Argentine from stepping in to blast winners off his two-handed backhand. Moreover, Nadal must be careful not to allow Del Potro to dictate off his explosive forehand, which is one of the game's most formidable weapons. The way I see it, this match has five sets written all over it. In the end, Nadal's mental toughness and unrelenting intensity will pull him though 6-4 in the final set.
The hard work will not be over. In the quarters, Nadal will meet either No. 6 seed, or more likely No. 10 seed Mardy Fish of the U.S. Fish has never done himself justice on the grass at Wimbledon. It is a surface that suits his attacking game to the hilt, although the courts are slower now than they used to be. Fish will take the opening set from Nadal with his best attacking play, and some searing backhand returns. But Nadal will gather himself, start swinging his slice serve wider and wider in the Ad court, and begin finding the range with his returns. Nadal will take this one in four sets.
His opponent in the semifinals will be none other than Andy Murray. This will be a rematch of a 2010 semifinal, which Nadal won in straight sets. Murray will have his share of tough battles en route to an appointment with Nadal. He will face No. 27 seed Marin Cilic in the third round, and that will result in a four set win for the No. 4 seed. In the round of 16, he will take on either Richard Gasquet or Stanislas Wawrinka. The guess here is that Gasquet will be Murray's opponent in that round. Three years ago, he served for a straight set win over Murray before losing in five crackling sets. Gasquet is playing great tennis these days, and he will push Murray in some sparkling rallies from the outset of the contest. In the end, Murray will overcome Gasquet with a mixture of aggression off the ground and some timely defense. Murray's first serve will make the difference as he wins in four sets. He will then repeat his Queen's Club win over Andy Roddick, toppling the American in a straight set quarterfinal.
In the Nadal-Murray semifinal, the level of play will be astounding at times. Murray will not hold back from the baseline and will look to conclude points early with flattened out forehands and two-handed backhands. He will serve clusters of aces. But Nadal will be ready for the barrage that will inevitably be thrown at him. On the big points, Nadal will have the edge, and he will prevail from a set down, winning in four sets.
On the opposite half of the draw, there will be less drama. No. 2 seed Novak Djokovic has an uncluttered path into the quarterfinals, when he will meet No. 5 seed Robin Soderling. After a first round scare with Philipp Petzschner, Soderling will get into a good rhythm and storm into the last eight. But Djokovic will methodically dispose of the Swede in straight sets. Roger Federer's draw is largely favorable, but he could and should meet John Isner in the fourth round. Ironically, Isner will play Nicolas Mahut in the opening round as they reprise their first round duel of 2010 that Isner won 70-68 in the fifth set over eleven hours and five minutes. But Isner will win more comfortably this time. Against Federer, Isner will push the six time champion hard, but he doesn't have the returns to worry the Swiss over the long run. Federer prevails in four sets to reach the quarterfinals. The seedings indicate that Federer should take on No. 7 seed David Ferrer, but I believe he will confront No. 12 seed Jo-Wilfried Tsonga instead. Tsonga played very well at Queen's Club and has a terrific grass court game. A first rate athlete with a top of the line first serve, good feel on the volley, and a gigantic forehand, Tsonga will put Federer in a bind, moving ahead by a set and a break. But Federer will salvage the second set in a close tie-break, and he will break down Tsonga's backhand to win in four sets.
And so it will be Djokovic against Federer for the fourth consecutive time in a Grand Slam tournament semifinal. Djokovic won the first two of those meetings at the 2010 U.S. Open (saving two match points in a five set triumph) and then Federer upended the Serbian in four sets at Roland Garros a few weeks ago, ending Djokovic's 43 match winning streak in the process. This time around, both men will be primed for a blockbuster of an appointment. Djokovic will be the surer of the two men from the baseline, which was not the case in Paris. He will be much more solid this time off the forehand, and will use his two-handed backhand down the line more frequently than he did in Paris.
Federer will be finding the corners with regularity on his serve, and stepping around convincingly to make his trademark inside-out forehand. Every set will be close and hard fought. Neither man will be giving away much ground. The match will be played at a high level. Djokovic will take the first set in a tie-break, but Federer will rally to win the second, 7-5. Djokovic will get an early break in the third and win that set 6-4, but Federer once more will bounce back to take the fourth in another tie-break. Early in the fifth, Federer will lead 2-0, but Djokovic will then raise his level considerably, especially off his returns. Djokovic will move past Federer in a dandy, 7-6(4), 5-7, 6-4, 6-7(5), 6-3.
That will put Djokovic and Nadal into their fifth head to head meeting in a final this year. Djokovic won the previous four times, and he will put himself in a position to be the victor again in this Centre Court showdown. The Serbian will dictate almost entirely in the early stages, and he will win the first set. The second set will be fought out fiercely before Nadal turns the corner to win it, 7-5. Nadal will then play his best tennis of the match in the third, taking his forehand down the line more often to keep Djokovic off balance and on the run, serving with greater pace and precision. Nadal will win the third set 6-3. But Djokovic will roar back in the fourth, and sweep through it 6-1 with some spectacular ball striking and strategic serving. His wide slice serve in the deuce court will give Nadal constant problems. And yet, in the fifth set, with everything on the line, it will be Nadal who steps it up and raises the bar. He will take more chances on his returns, go for his backhand crosscourt with more pace, and start moving around to unleash his fearsome inside-out forehand. Djokovic will not be able to stop the onslaught. Nadal will remain unbeaten at Wimbledon since 2007, coming through 4-6, 7-5, 6-3, 1-6, 6-4.
As for the women, the quarters are projected to play out this way: No. 1 seed Caroline Wozniacki against No. 5 Maria Sharapova; No. 3 Li Na versus No. 7 Serena Williams; No. 4 Victoria Azarenka against No. 6 Francesca Schiavone; and No. 2 seed and 2010 finalist Vera Zvonareva facing No. 8 seed Petra Kvitova. Wozniacki, however, will struggle as always to beat Julia Georges (the No. 16 seed) in the round of 16. She will get through that match in three sets, but Sharapova will cut her down in straight sets. Serena Williams will have a rough battle on her hands in the round of 16 against Marion Bartoli, but Serena will win in three sets. But the French Open champion will not be intimidated by facing a Serena who is still not back in peak form after being gone from the game for nearly a year. The French Open champion will upend Serena win three sets.
And so it will be Li Na against Sharapova in a repeat of a recent French Open semifinal, which Li won in straight sets. This time around, Sharapova will be much happier in the grass, and she will be victorious in straight sets. On the bottom half of the draw, Venus Williams will defeat both Jelena Jankovic (the No. 15 seed), and No. 2 seed Zvonareva, but she will lose to the left-handed Kvitova. In the semifinals, Kvitova will surprise Azarenka, winning in three sets. But Kvitova will not be able to hold back the 2004 Wimbledon champion. Sharapova will stay away from Kvitova's forehand as often as possible, and her first serve potency and accuracy will carry her to a 6-4, 3-6, 6-2 triumph. For the second time, Maria Sharapova will be the Wimbledon singles champion. She will garner her first Grand Slam singles title since the Australian Open of 2008, and secure her fourth major overall.
Nadal and Sharapova will be the Wimbledon singles champions of 2011. That is the way I see it.