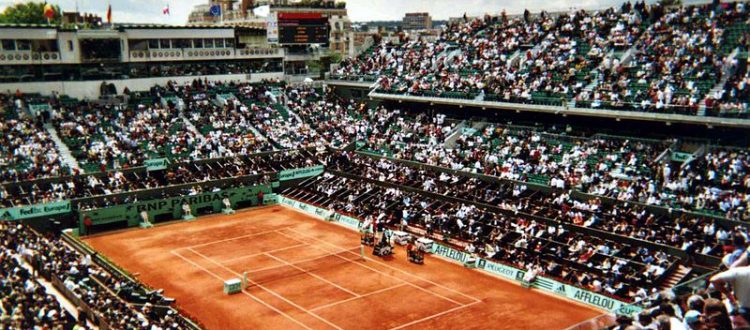 I can't wait for the French Open to get started on Sunday. The annual clay court festival at Roland Garros should be particularly compelling this time around. It would have been inconceivable even a few weeks ago to suggest that anyone other than Rafael Nadal could approach this tournament as the favorite, but Novak Djokovic's stupendous 2011 campaign has altered the landscape of the sport. He has won seven tournaments in a row this season and 37 consecutive matches. His overall winning streak since last November is 39 straight matches. Across 2011, he has beaten Nadal four times, Federer thrice, and Andy Murray twice. Moreover, after losing his first nine career clay court clashes with the redoubtable Nadal, Djokovic has upended the Spaniard in two important finals on the dirt at Madrid and Rome.
On that form, he deserves the honor of being considered the man to beat in Paris. The results are undeniable, and he has been unstoppable. And yet, as much as I respect the way Djokovic has played and competed all year long, as deeply as I admire what he is doing, as often as I have sat back and marveled at how he has conducted himself, I am picking Nadal to win his sixth French Open in seven years. The way I see it, Nadal still has the edge over everyone—including the astonishing Djokovic—in a best of five set competition. In the end, the longer format can work in his favor if he fully exploits his physicality, which I expect him to do.
Let's look at the draw. Nadal has an intriguing opening round assignment against the 6'9" American John Isner. Isner is one of the biggest serves in the sport and on fast courts his attacking style can make him a daunting opponent for anyone, including Nadal. But on the clay, he can't stay with Nadal. Isner will still be tough to break but he doesn't have the consistency off the ground to stay with the Spaniard in Nadal's service games. There could be a close set or two, but Nadal will get the victory in straight sets. The top seed could then meet Nikolay Davydenko in the third round and countryman Fernando Verdasco in the round of 16, but he will sweep through that section of the draw.
The first serious test for Nadal could come in the quarterfinals against Sweden's Robin Soderling. Soderling is the only man ever to beat Nadal at Roland Garros. He produced a monumental upset over the Spaniard in 2009 in the round of 16 and lost the final that year to Roger Federer. Last year, he ousted Federer in the quarters and made it to the final again, losing to Nadal in straight sets. Soderling is a remarkable player on any surface, a big server with an explosive forehand, and a man very much at home on clay. And yet, the view here is that he played almost beyond his means the last two years in Paris. His win over Federer last year was his only success against the Swiss in 17 career meetings; his victory over Nadal in 2010 was one of only two wins in seven appointments he has made with the Spaniard. This time around, Nadal will topple Soderling in a hard fought yet straight set contest.
On Nadal will go to the semifinals, where he will meet none other than No. 4 seed Andy Murray. Murray has never been beyond the quarters at Roland Garros, but he is playing his best ever brand of clay court tennis. He got to the semifinals in Monte Carlo and took a set off Nadal. In Rome, Murray served for the match against Djokovic and was within two points of a big victory before the Serbian struck back boldly to win in a final set tie-break. At Roland Garros, Murray may meet the imposing Milos Raonic in the third round, but the conditions on clay favor Murray against the big man from Canada. Murray could later meet Alexandr Dolgopolov or Jurgen Melzer, but I like his chances against anyone in his section. Murray will play his heart out against Nadal, and his admirable combination of timely offense with superb defensive skills will turn his contest with Nadal into a relatively long struggle. Murray will take the second set and push hard in the third before Nadal's clay court mastery will take over. Nadal wins 6-4, 5-7, 7-5, 6-3 to reach the final.
On the opposite half of the draw, Roger Federer and Novak Djokovic appear to be on a collision course. Federer has a tricky first round duel against the left-handed Feliciano Lopez, one of the few men in tennis capable of attacking on clay and serving-and-volleying with the regularity he exhibits on faster surfaces. Lopez played Federer in Madrid and led 5-2 in the final set tie-break, only to bungle an easy bounce smash wide that would have given him four match points. He should have won that match, but the fact remains he has never beaten Federer. Federer will be ready for the left-handed Spaniard this time, and will prevail in straight sets.
Federer will take on No. 7 seed David Ferrer in the quarters. Ferrer has the clay court skills to give Federer a very tough time, but he has never beaten the Swiss in eleven attempts over the course of their careers. He will take a set but Federer will move on to the semifinals in four.
Waiting for him there will be Djokovic. Djokovic will meet 2009 U.S. Open champion Juan Martin Del Potro in the third round. Del Potro has been making rapid advances back toward the top of his game this season after missing most of 2010 when he had wrist surgery. He is confident now, striking the ball big and boldly off both sides, playing top of the line tennis. He is going to make Djokovic work hard, but Djokovic will prevail in four sets. In the fourth round, Djokovic could meet the gifted Richard Gasquet of France. The No. 13 seed will inevitably put together a brilliant sequence of shots for one set and worry Djokovic with his outstanding one-handed, topspin backhand. But Djokovic will wear him down and pull away comfortably to win in four sets. In the quarters, Djokovic will dissect No. 6 seed Tomas Berdych.
The Djokovic-Federer semifinal will be hotly contested and well played. Federer will take calculated risks, step inside the court whenever possible for inside-out forehand winners, and he will gamble with the backhand down the line. He will unsettle Djokovic for a while, but the Serbian will not be swayed for long. He will keep pummeling away with his two-handed backhand crosscourt and break down Federer's weaker side. Moreover, Djokovic will do his share of dictating off his vastly improved forehand side, and he will move his first serve around skillfully. Djokovic will defeat Federer 6-4, 4-6, 6-4, 6-2, displaying growing self assurance over the last two sets.
And so it will be "Round Five" of the Djokovic-Nadal 2011 head-to-head series in the final of the world's premier clay court championship, and this could turn into an epic. Nadal knows he has to make his move in the early stages and not allow Djokovic the luxury of a big lead. He will fight furiously in the first two sets to stay with Djokovic, and it will not be easy. Djokovic will win the first set in a tie-break, but Nadal will find a way to impose himself by pounding his forehand crosscourt with his inimitable topspin, high to the two-hander of his adversary. Nadal will win the second set 7-5, and then sustain his momentum to take the third 6-4 as his forehand causes Djokovic some significant problems.
But Djokovic will not surrender. He will battle back from 2-4 down in the fourth set and capture five of the next six games to force a fifth set. The players will be exhausted yet exhilarated as they move through the fifth and final set. Djokovic will draw first blood and open up a 3-1 lead, but Nadal will make one last surge. He will raise his intensity and in the end his willpower will be the difference. Nadal retains his title, garnering a tenth Grand Slam championship by overcoming Djokovic 6-7 (5), 7-5, 6-4, 5-7, 6-4. It will be one of the finest battles in all of 2011.
The top seeded woman is, of course Caroline Wozniacki. She opens against 40-year-old Kimiko Date-Krumm of Japan. Krumm was a semifinalist at Roland Garros in 1995 when she was only 24. She is a resourceful match player, but Wozniacki will record a tough straight set victory over the Japanese player. Wozniacki should meet 2010 finalist Sam Stosur in the quarterfinals, and the Australian is at her best on clay. Nevertheless, I envision Wozniacki prevailing in three sets for a place in the semifinals.
She could face No. 3 seed Vera Zvonareva in the penultimate round. Zvonareva has been entirely dependable at the last three majors, reaching the finals of Wimbledon and the U.S. Open a year ago, and the semifinals of the Australian Open this season. She is expected to meet defending champion Francesca Schiavone in the quarters. Zvonareva should survive in three sets, but Wozniacki will defeat the Russian in three sets with her solid play from the baseline, and some help from a jittery Zvonareva.
On the opposite half of the draw, the seedings indicate that Victoria Azarenka should take on Li Na in one quarterfinal while standouts Maria Sharapova and Kim Clijsters clash in the other. I like Azarenka to topple Li, while Clijsters will narrowly escape defeat and beat Sharapova 7-5 in the final set. Clijsters will then win another close three set clash with Azarenka to set up a final round meeting with Wozniacki. The Belgian will be in pursuit of a third Grand Slam championships in a row while the Danish baseliner and world No. 1 will be looking for her first major crown.
Their final will be a worthy showdown for the world's premier clay court title. Clijsters will use her superior foot speed and strategic acumen to win the first set 7-5, but Wozniacki will add weight and depth to her shots in the second set and take it 6-3. The final set will be a blockbuster. Wozniacki will serve for the match at 5-2 but Clijsters will then collect five games in a row for a 7-5, 3-6, 7-5 triumph. At long last, after losing the 2001 Roland Garros final to Jennifer Capriati 1-6, 6-4, 12-10 and then falling in straight sets against Justine Henin in the 2003 final, Kim Clijsters will put her name deservedly on the trophy at Roland Garros.