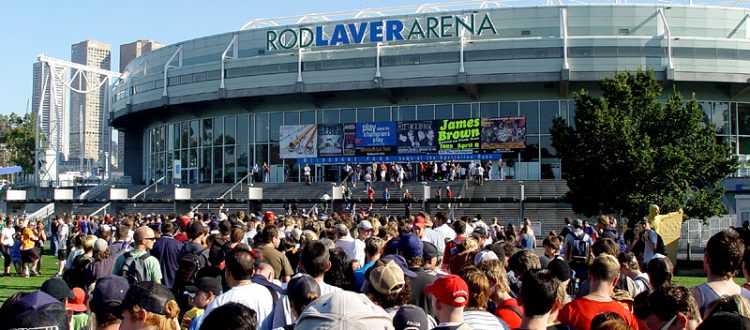 2011 Australian Open Preview
Now that the draw has been released for the first major of 2011, I am ready to make my predictions. The view here is that Rafael Nadal is going to win his second Australian Open title, his fourth major in a row, and his tenth career Grand Slam championship. He is on a great run at the premier events, and is primed to make yet another championship run. I believe Kim Clijsters is going to win the women's event. She has captured the past two U.S. Opens, and has won three majors in New York overall. She has been the best woman hard court player in the world over the last year-and-a-half, and she will rise to this occasion with another sterling performance.
Let's look at the men's draw first. Nadal has a very favorable draw — at least the way I see it. He opens against the Brazilian Marcos Daniel, and could meet No. 31 seed and countryman Feliciano Lopez in the third round. His round of 16 contest figures to be against either John Isner (the No. 20 seed), or No. 15 seed Marin Cilic. Isner faces a potentially dangerous second round appointment in Radek Stepanek, and Cilic has gone steadily downhill since making the semifinals in Melbourne a year ago. Nadal should navigate his way through that section of the draw without too much difficulty.
In the quarterfinals, the Spaniard could play the Russian Mikhail Youzhny (Nadal handled Youzhny in straight sets in the semifinals of the 2010 U.S. Open), but David Nalbandian (who faces a stern test with Lleyton Hewitt in the opening round) could meet No. 7 seed David Ferrer in the third round and then earn the right to take on Youzhny — with the winner to play Nadal. That is a tough trio of players.
Nalbandian always presents problems for Nadal, Ferrer can make his compatriot work hard, and Youzhny is gifted. But Nadal will only confront one of them in the quarters, and will not concede more than a set…On he goes to the semifinals. Waiting for him there will be either No. 4 seed Robin Soderling or No. 5 Andy Murray, the 2010 Australian Open finalist. That could be a blockbuster of a quarterfinal, a potential five set skirmish with major momentum shifts. Soderling's ground game is explosive and he has a terrific first serve, while Murray will retaliate with his magnificent defense. Moreover, the British player will impose himself whenever he can by taking the initiative and nailing his backhand down the line. If Murray gets at least 60% of his first serves in, I believe he will prevail. The pick here: Murray in five sets.
A year ago, Murray was up two sets to love and a break in the third against Nadal in the quarters when the Spaniard retired with a knee injury. Murray also beat Nadal in a four set semifinal at the 2008 U.S. Open, but Nadal has twice upended Murray at Wimbledon, including a straight set semifinal win in the 2010 semifinals. Murray will take a very aggressive posture in this match, taking the ball early, stationing himself in front of the baseline to seize control of rallies, serving big on the first delivery and taking some chances on his second serve. But he will not find a solution to Nadal's vastly improved first serve and will not be able to break the Spaniard more than twice. Nadal will be aggressive as well, and will send Murray scurrying all over the court by taking utter control off his forehand side. The wear and tear will be too much for Murray, who will bow in four sets.
On the other half of the draw, four time champion Roger Federer will be no mood to let go of his crown. Federer is the hottest player in the world at the moment. He closed 2010 by winning three of his last five tournaments, including the season-ending Barclays ATP World Tour Finals. He opened his 2011 campaign with an impressive tournament victory in Doha. He is confident, deeply driven, and as purposeful as ever. He believes he is going to win this tournament. Federer will largely coast through the early rounds. He meets Lukas Lacko in the first round, might face Gilles Simon in the second round, and could well play Albert Montanes in the third round. Montanes upset Federer on clay in 2010.
But the way Federer is playing at the moment, he will charge through that section of the draw. He will then confront either Mardy Fish or Sam Querrey, who should meet in the third round. Federer will be tested by either American, and could lose a set. But that is as arduous as his fight will get. In the quarters, Federer is due to play No. 8 seed Andy Roddick, but the view here is that he will instead find himself up against the rapidly improving Gael Monfils, the No. 12 seed. Monfils must first deal with Stanislas Wawrinka in the third round, but I believe he will win that match in four sets, and then topple Roddick in five sets to earn a chance to play Federer.
Monfils upset Federer indoors at Paris last fall, saving five match points. It was his first win ever over the Swiss Maestro, and he will be bolstered by that triumph as he gets another opportunity to test himself against the world No. 2 in Melbourne. Monfils is learning at last to display sensible shot making and point construction rather than showboating so much. He will test Federer severely, winning the first set, dropping the next two, recouping with panache to take the fourth. But he will be weary in the fifth and Federer will pounce. Federer wins 6-2 in the final set for a place in the semifinals.
Meanwhile, No. 3 seed Novak Djokovic, the 2008 Australian Open victor, will survive a hard fought, third round skirmish with countryman Viktor Troicki but will move on comfortably from there to face Tomas Berdych in the quarters. The No. 6 seed Berdych will be striking the ball commandingly from the baseline, but Djokovic will be too resourceful and he is the better athlete. Djokovic will take down Berdych in four sets, and set up a semifinal appointment with Federer. Since Djokovic upended Federer in the semifinals of the U.S.Open (saving two match points in the process) he has lost three in a row to his formidable rival. Djokovic did stop Federer at the 2008 Australian Open in the penultimate round on his way to taking his only major title.
Djokovic will make a go of it this time, but it will not be enough. Federer will be largely impenetrable, and his serve will be the big difference. Federer will keep Djokovic at bay on his returns and discourage the Serbian with his consistency. Federer will advance in four sets.
And so it will be Nadal and Federer meeting for the eighth time in a Grand Slam tournament final. Nadal owns a 5-2 edge in the series, winning three times in the finals of the French Open (2006-2008), losing two out of three Wimbledon finals (2006-2008), and winning a scintillating five set encounter in the final of the 20009 Australian Open. This battle in Melbourne will be much like that one. Both men will fully believe in their chances, but Nadal will move out in front, taking the opening set with one service break, not losing his own delivery. Federer will then shift into a higher gear, find his range off the forehand, and start attacking Nadal's second serve with some regularity.
Federer will take the second and third sets. The fourth will go to a critical tie-break, with Federer within striking distance of the title. He will be up 5-3 in that tie-break, but Nadal will strike back boldly with a string of devastatingly potent forehand winners, taking four points in a row to even the match at two sets all. The fifth set will go on serve until 5-5, when Nadal will get the crucial break with some sparkling second serve returns. Serving for the match at 6-5, Nadal will trail 0-30 but will release two aces, and then recover to hold for the match. Nadal wins 6-4, 4-6, 5-7, 7-6 (5), 7-5. It will go down among the great Nadal-Federer skirmishes.
Among the women, top seeded Caroline Wozniacki will play 2010 finalist Justine Henin in the quarters. Henin will defeat No. 23 seed Svetlana Kuznetsova in the third round and will oust French Open champion Francesca Schiavone in the round of 16. Wozniacki and Henin will stage a spirited encounter, with Henin seeking to break the rhythm of her industrious baseline opponent. In the end, however, Wozniacki will prevail 7-5, 4-6, 6-4 to reach the penultimate round. Venus Williams, seeded No. 4, should play No. 14 seed Maria Sharapova in the round of 16. Sharapova will be the more reliable player from the baseline, and will serve well when it counts, winning 7-5, 7-6 (4). Sharapova will then face No. 8 seed Victoria Azarenka for a place in the semifinals. Azarenka will be too much for Sharapova from the back of the court and her returns will be too sharp. Azarenka will advance in straight sets, and will come up against Wozniacki.
Wozniacki will start slowly and Azarenka will be ripping winners from all parts of the court, sweeping through the first set 6-2. Azarenka will move swiftly to a 3-1, 0-40 lead in the second set, but Wozniacki will hold on gamely there and never look back. Wozniacki wins this one 2-6, 6-4, 6-3. She is in the final. On the bottom half of the draw, Clijsters will open with a meeting against the slumping Dinara Safina, the former world No. 1 who has lost her way so badly. Clijsters will assert herself early, and her ground stroke consistency and superior footwork will carry her to a straight set win. Clijsters will play No. 13 seed Nadia Petrova in the round of 16, and will avenge her loss to the Russian at the 2010 Australian Open with a convincing straight set victory.
In the quarters, Clijsters will stop No. 7 seed Jelena Jankovic 7-5, 6-3, moving into the semifinals. In the semifinals, Clijsters will play an emotional match against No. 5 seed Sam Stosur. The Australian crowd will be highly charged and fully behind their best woman player. Stosur will storm out of the gates confidently. She will attack early and often and win the first set 6-3 from a startled Clijsters. But Clijsters will restore order in the end, and win 3-6, 6-3, 6-2. In the final, she will be hard pressed as Wozniacki will get a ton of balls back. Clijsters will be looking to exploit Wozniacki's more vulnerable forehand side, but that will not be easy.
Nonetheless, Wozniacki will take a hard fought first set 7-5, rallying from 2-4 down. Clijsters will come back to take the second set 6-4, but will trail 1-4 in the third. Wozniacki will be serving in the sixth game of the third and final set, up two breaks, seemingly headed for her first major tournament victory. But Clijsters will strike back boldly. Upping the ante, going for calculated winners, taking the ball early and controlling points off her forehand side, the sprightly Belgian will win five games in a row for a 5-7, 6-4, 6-4 triumph, and a second straight Grand Slam championship.
Nadal and Clijsters were popular winners at the 2010 U.S. Open, and they will be greeted effusively by the fans in Melbourne as they start the new season in style.